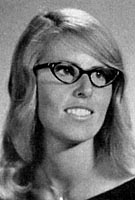 Mikal Perry Fonseca
Job Title - Retired
Current Location - 29243 Farm Road 1182, Eagle Rock, MO. 65641-4803
Telephone - (417) 271-4425


UPDATE 10/9/2010 - Mikal's computer is still broken but she is now checking that new email address at the county library weekly. Her father passed away this year in California. She was pleasantly surprised when Jim Phillips turned up at the funeral.

UPDATE 11/11/03 - Check out Mikal's photo album from the good old days.

UPDATE 10/25/03 - I'm just e-mailing ya'll to say I finally got my e-mail address workable and would love to hear from all. Hope all is well with everybody and would love to know if we're having a re-union next year. What ever happened to Sylvia Martin (Bob Hooper went out with her and she lived in Big Makalapa) and Corrine Yamamoto? Aloha, Mikal

My youngest son, Cole Liniak, was drafted right out of high school by the Red Sox, played minor league ball there for a few years, then was traded to The Cubs and he got to play in the Majors for a few months. What a treat to watch him on TV for his Major League debut, playing with Sammy Sosa. He's now in the Texas Ranger organization and plays Triple A ball out of Oklahoma City for the Red Hawks. He plays 3rd base. My middle son, Justin Liniak, was drafted out of high school by the Colorado Rockies in their first season but his father talked him out of going, saying he would be baseball fodder. I could have killed him (the dad). Justin is going to Mercedes Benz mechanic school and should be done next Spring. He and his wife Amy, gave me my first grandson four years ago, his name is Kingston Nolan. Quite a mouthful for a little guy. My oldest son, Dr. Ben H. McCommon, is a psychiatrist in New York City. He went to Harvard and Columbia Medical School. He's really the smart one in this family, (except for living in New York City). He's just opened his own private practice.

Married to Rick Martell from 66-70. We owned Gansett Bay Surf Shop in Narragansett, R.I. during those years. We had a surf team that traveled up and down the East Coast. We didn't make much money, but boy what a good time. Moved back to San Diego, Ca. in 70'. Married Tony Liniak and had two wonderful boys. Moved to Eagle Rock, Mo. in 90' to be closer to Mike and Terry DuMontier. I remarried again to Rene' Fonseca (this one is the one). We share 18 acres on Tablerock Lake and enjoy the peace and solitude of the woods. Unfortunately, we lost Mike to cancer 4 years ago, after a long battle. Steve Cook and Kent MacIntosh came to the funeral. I miss everyone and can't thank Dean "Al" Covey enough for this Web Site, it has brought back so many wonderful memories. I have just begun learning to use a computer, but I have many pictures to share and will learn to scan and share. Hope to hear from all of you. Till then I send you sweet Alohas.