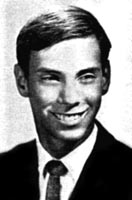 Robert Arthur 'Bob' Kaden
Job Title - Retired - Battalion Chief Kauai Fire Department
Real Estate Agent - Country Brokers, Inc.
Current Location - Kilauea, Kauai
Telephone -




7/3/2008 - Retired from the fire department back in 2006. Working in real estate and taking lots of photos. Here's one of son Joey and another of his sister Asia and their mom.

Still in Hawaii, living on northshore of Kauai. Graduated in 64 and made it to Vietnam in 67. Still have all my parts. Sue Durkee and I had a son, Kaleo, who lives on Kauai also. Now married to a fabulous woman, Ester, from Indonesia and am busy manufacturing my own grandchildren. Asia and Joshua. Landing in Hawaii with my military family was the best. Lots of us were desperate to settle down and Hawaii in those years was fabulous. will be able to retire from the Kauai Fire Department in a couple of years and hope to continue traveling and surfing.

Used to hang with John Hoag, the Dowling brothers, Tim Salthouse '65, Lucky Miller, Sharron Weber '66 etc. Still see some of these people. If you remember me, please get in touch.

The surfing talent pool among the young ones here is stunning! Warm water, year round waves and 3x world champ Andy Irons and his brother Bruce being from the same little town keeps the kids pumped.

Want to buy real estate on Kauai? Contact Bob on the Country Brokers, Inc. Contact an Agent page!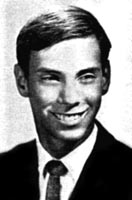 Job Title - Retired - Battalion Chief Kauai Fire Department
Current Location - Kilauea, Kauai
Telephone -




7/3/2008 - Retired from the fire department back in 2006. Working in real estate and taking lots of photos.

Still in Hawaii, living on Northshore of Kauai. Graduated in 64 and made it to Vietnam in 67. Still have all my parts. Sue Durkee and I had a son, Kaleo, who lives on Kauai also. Now married to a fabulous woman, Ester, from Indonesia and am busy manufacturing my own grandchildren. Asia and Joshua. Landing in Hawaii with my military family was the best. Lots of us were desperate to settle down and Hawaii in those years was fabulous. will be able to retire from the Kauai Fire Department in a couple of years and hope to continue traveling and surfing. Used to hang with John Hoag, the Dowling brothers, Tim Salthouse '65, Lucky Miller, Sharron Weber '66 etc. Still see some of these people. If you remember me, please get in touch.
Bob and Ester