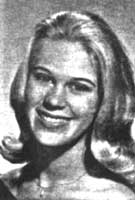 Job Title - Preschool Director
Current Location - San Antonio TX
Telephone -



Attended Radford Junior and Senior year. Graduated Southwest Texas State University in 1968. Married Wayne Hosack, 64 grad from Radford, in 1968. Wayne was career Air Force. Retired in 1994. He works for USAA. I have been the director of an early learning program in Universal City for years. We have three daughters, two granddaughters. Live in Universal City outside San Antonio. In contact at Christmas with Mary Aeschliman and Mary Dixon.