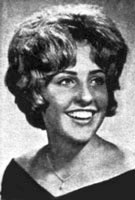 Cheryl Ann Bill Dimaio

Job Title - Space Planner for Staples
Current Location -Schwenksville, PA
Telephone -



I live in Schwenksville, PA...a small town near a ski resort with spectacular views.

Currently I am a space planner for Staples with the opportunity of working from home.

I was married 20 years and was given three beautiful children who have given me four wonderful grandchildren. We all live at a distance of about 20 miles from each other so we are involved on a day to day basis.

After graduation I studied interior design at the University of the Arts in Philadelphia. I got married in 1970 and as I did with my father being military I moved all over the county with my husband. I have never regretted the opportunities of change, but I do like the permanence of living where I live at this point, especially with my family so near.