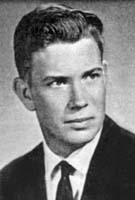 Paul Hulett
Job Title - UPS Store Owner
Current Location - Reno, NV
Telephone -



Update - 12/11/2010 - I have been out of the loop for too long. I have a lot of friends that I need to get in touch with. While I was at Radford I really did not have the chance to play sports. I did join one of the school clubs (The Stags) that is where Ed Jordan (Stags VP) and I became good friends. I was always in the water or fishing or just having fun with so many good friends. My dad was in the Navy. We lived in Mauna Loa Gardens.



Now lets see, I now have 6 grand children, and yes I own the U.P.S. store. I retired about 8 years ago, and after 3 months my wife said that I had better find something to do so I did and I enjoy it.





I guess it is that time in our lives that so many in our past mean so much to us now. Yes I am married and between my wife and myself we have 4 great kids. This is a whole new time in our lives. Oh I can't forget about our two basset hounds, they keep us very busy. Well, I will make this short and sweet, have to get back to work. I will keep in touch because I understand there is a RadGrad that works at Harrah's casino here in Reno and I will track him down.