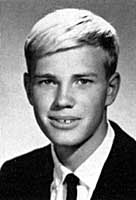 Thomas Seabrook
Job Title - Registered Nurse
Current Location - Beaverton, OR
Telephone -

Update 8/1/2009 - "it's been hot here - 105 degrees on Wednesday and Thursday. Today was a little cooler - 97 degrees."

"I'm going to stay with the VA for a little while. I enjoy the work for the most part. I especially like the people in the O.R. I actually like working and will probably do something else after I retire.

My kids (adults really) are all doing fine. Two of them live here in the Portland area. The other lives in Colorado, but I will see her in a couple of weeks. My only grandchild belongs to her."

Update 1/26/2008 - I have a girlfriend in Paris now - Gabrielle - who I go back and forth to see. This is hard on both of us, but I plan to retire from the VA this summer. When that happens I will be able to spend most of my time in France with her.

May, 1964: Returned to mainland on father's 32-foot sailboat. Three souls on board, 34 days at sea.
1966-70: Chief Warrant Officer helicopter pilot, U.S. Army. Served in Vietnam and West Germany. Air Medal and Army Commendation Medal with "V" device.
June, 1972: Associate of Arts degree, Foothill College, Los Altos Hills, California.
1973-80: Police Officer, City of Palo Alto, CA.
1981: Bachelor of Science, College of Notre Dame, Belmont, CA.
1981-89: Police Officer, City of Menlo Park, CA. Elected Police Officer Association President for 1988.
1989-90: Deputy Sheriff Investigator, Trinity County Sheriff's Dept, CA.
June, 1994: Bachelor of Science in Nursing cum laude, University of Portland, Portland, Oregon.
Currently working in the operating room at the U.S. Dept. of Veteran's Affairs Medical Center, Portland, Oregon. I live in Beaverton with my 20 year old daughter, Stephanie. I have a grown son, Chris, who lives in Portland and a grown daughter, Jill, going to Vet School in Colorado. Jill got married in 2000 and I have one grandchild.

I enjoy sailing, reading, working out, hiking, and family life. I am a member of Amnesty International. I'd love to hear from any 64 grad. Email me!
Aloha!