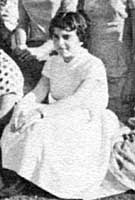 Rose Marie 'Tomi' Scarano Fricke
Sadly it is reported that Tomi passed away in Honolulu
on July 4th, 2001. She had only just found us and some of
her old "lost" Radford friends a couple of months before
the beginning of her illness.


She reported in January 2001: "Lived in Hickam Village and attended Radford as a freshman and sophomore, finished high school at Wayne Township High in Ohio. (We were transferred to Wright Patterson AFB after Hawaii--what a difference) I got a Bachelor's in English at California State University." Tomi was living in the Hilo area.