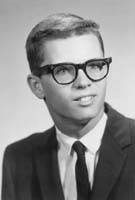 Thomas Boyd 'Tom' Rickey
Job Title - Retired Computer Executive
Current Location - Tacoma, WA
Telephone -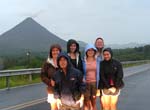 Tom's new Album of New and Old pictures.

Update 8/30/2007 - Tom has been busy in his real estate practice www.tomrickey.com and with his old car habit. He took his whole family to Costa Rica for 2 weeks in August of 07. Tom met up with his old girlfriend, Joyce Ramsey '65 (now Joyce Peden) and had a nice dinner with her and her husband there in Tacoma. See the attached photos of Joyce and Tom circa 1962, as well as a photo of Sharon and the kids at Arenal Volcano, Costa Rica -- as well as Tom with his 1956 Eldorado convertible.

In the album are a few more Costa Rica shots...A shot of us in the "terminal" at Corcovado. We stayed in tents at a place only accessible by piper cub size planes. See the grassy strip we landed on in the pic taken thru the windshield. No lie, they had to shoo the horses off the strip for us to land. When we landed, they take our bags in an old wooden horse cart, and we hike 45 minutes along the beach and into the jungle. A squadron of 7 Scarlet Macaws flew overhead (they only fly in groups of 2 or more--mate for life--and live to be 90 yrs old in the wild). And it was all wild: 3-4 kinds of monkeys visited our site, as well as snakes, scorpions, lots of iguanas, and when it rained, the poison dart tree frogs were everywhere. Safe, and we were always nearby guides and the wonderful and friendly people of Costa Rica. They have a saying that they use like Hawaii uses "Aloha" It is "Pura Vida" [poor-ah vee-dah] and it means "pure life" or to the celebration of pure life, or to wish one another a pure life. As a nation they are dedicated to preservation and acknowledge that tourism and ecology are hand in hand and the #1 industry.

"We are going to be on Maui this December 21st thru Jan 1, 2008 in case anyone wants to get together. I might even hop over to another Isle to meet with friends...If anyone's intrested, please call my cell: (253)318-0036"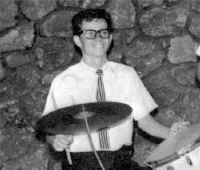 Yeah Baby! Thanks for putting this up :~)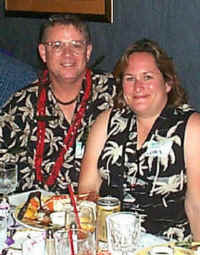 Tom & Sharon at the '65 Reunion Oct. 2000

Still playing. Have a vintage "Rogers" drum set, with the same Cymbals
seen in the photo you have on the website. Last working band was "High
Country Climax" in Tacoma in 1980-82. Lately I played with my 16 yr old
daughter, Helen in a community band.