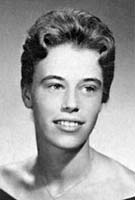 Job Title - Retired RN/Business Owner
Current Location - 133 East 400 North, Driggs, Idaho 83422-5052
Telephone - 208-354-8436

E-Mail Nadine at ramirez@tetontel.com


After a year at BYU in Provo, Utah, I married my Senior Year sweetheart from Hickam AFB, Ronald A Ramirez, and next year we will celebrate 40 years together.  We moved around in the Air Force for 24 years until he retired in 1986.  We have raised 3 children who have given us 11 grandchildren so far. That has been my greatest joy in life. I worked as an RN for 9 years after getting my Associates Degree in 1986. The last 9 years Ron and I ran an insurance agency together here in Driggs which has been very successful, hence my "retirement" from the work world but I find that I am busier than ever! (My husband dabbles heavily in politics--county commissioner at present.) We live in mountain country, calling the Grand Tetons our bedroom window view.  Not sure I could live in the big city again!  Have returned to Hawaii three times since leaving after graduation--first two years of marriage (1965-67), 1972 and 1990.  Plan to come back for our 40th wedding anniversary in August, 2005.  Hope a reunion will be going on!  I don't remember that many of you but 40 years is a long time.