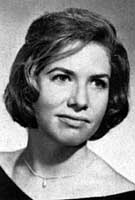 Job Title - Social worker at CA. Youth Authority
Current Location - 15977 Atitlan Dr., Hacienda Hts, CA 91745
Telephone - (626)330-4183



Update - 5/3/2009 - I've been a casework supervisor at work for the last 1.5 years. I work in a youth prison (was CYA) in Calif.

It's same-ol', same-ol' - (40 yrs. working for civil service--county and state--in Calif; 40 yrs. married to the same guy.) But 5 of us went to Hawaii in Feb.'08--just on Kauai (1-wk. timeshare), but it was fun-fun-fun.

I'm in the the strange position of being "there" (was at Radford the last 2 yrs. before graduating, graduated high up in the Class of 64), but I was so busy studying (and doing things to get into college), but not knowing anyone. I must have been a ghost, too, 'cause not too many people knew me. I do know Linda Bjerkelund.

I've met some of our classmates - a little reunion in a nearby beach city in Orange Co.--didn't know anyone! I'm even related by my son's marriage to a lady who's DAD went to Radford a year earlier. This is my son's father-in-law, Denny Sampaio. They (my son, wife, and her parents) live in some small towns across Puget Sound from Seattle. We are SO empty nest. Daughter (turns 31 today) is in San Francisco; son is in Port Orchard, WA. It is fun having the grandkids...we have 3. (Youngest is 3 and a half.)

This is too cool! I had enjoyed the link from before, but had lost the link you'd set up.  It's great what you'd set up...and how you've kept it up.     Thanks for the offer to update the info on my page...sorry, it's "same ol', same old" as before.    The adult kids are (of course) older...and are now 39, 33, and 30. Hubby Joe has retired, but is still working part time (at the same agency, the Calif. Youth Authority--as our agency name used to be). We still live at the same place, and I still work at the same agency.

I moved back with my family to Calif. Went to Cal State Fullerton, met husband (Joe) there, married him in 1968, graduated in 1968. We went to graduate school (for an MSW) at Fresno State Univ. We got our MSWs in the early 1970s, and have been working in social service (or social work) ever since. I am now a Casework Specialist for the Calif. Youth Authority; I plan to retire in about 7 years. I love to travel and have been to Hungary at least a dozen times. (Husband is from there.) I have my LCSW and am hoping to become a therapist online (with a new organization that is recruiting for LCSWs to go online). 3 kids: 32, 26, 23 years old.