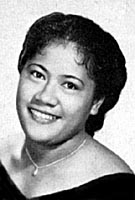 Job Title - Self Employed
Current Location - 642 E 21st Ave., Fairbanks, Alaska 99701
Telephone - 907-458-7427

E-Mail Omeka at Will-N-LefaPanama@worldnet.att.net


I got married and had 3 children. I moved from Hawaii to California then to Samoa then back to California where I lived for eleven Years. I worked for Tappette Company as lead lady in labelle dept. My husband passed away in 1980 and I've cared for my children on my own since. Then I moved to Alaska in 1991 till now.