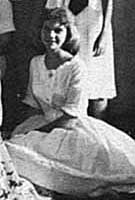 Jody Austin Beal
Job Title - Retired
Current Location - Hillsboro, Oregon
Telephone -



Update - Jan 2013 - Jody has moved to Hillsboro, Oregon. "Cold and rainy.....but I knew that would be the case. Grandkids are the reward for living so long 16, 14, 10...great time of their lives to be here. Bought a house just 4 houses down the street from them."

News and Comments "Forced, by dear old Dad and Uncle Sam, to leave the islands at the end of my Sophomore year moved to Ogden, Utah were I eventually married a fellow Radford Class of 64 classmate, William Beal. Bill joined the Marine Corps and we and our two children traveled the globe for the next 29 years, including a 4 year stay in Hawaii. I began my real estate career, while we were in Hawaii, working for Blackfield Hawaii...the company that at the time owned Kahuku Sugar Mill. I managed an office building for them in downtown Honolulu...at the corner of Hotel and Alekea.

Today I am a real estate broker, serving as the DC Regional Director for the area's largest real estate company's property management division. Bill and I were divorced 8 years ago and I moved here to Washington DC. Our son is a surfer, living in Haleiwa so I do get back to the islands occasionally and believe me ... I'm 15 years old the instant I smell a plumeria! When I was a junior varsity cheerleader at Radford I made many a plumeria lei for the football games. There is no way I can smell a plumeria and not want to wash the ""sticky stuff"" off my hands ... but sure does bring back sweet memories of the sweetest years of my life. Living in our nation's capitol, especially in today's time, is 2nd best to being in Hawaii when it comes to planting vivid memories. In the same way that you can feel the ancient history in the air when you are in Hawaii, you can feel the history and power in the air here. I encourage you all to come visit...it's an experience to remember."